Products
Meet the
market leader
ECOCHARGE
Two-stage turbocharging is suitable for high and medium speed engines of all fuel types in applications for all engine power ranges. Extremely high efficiency and pressure ratios enable increased power density and allow improvements to key engine parameters.
Two-stage turbocharging
As a compact two-stage unit, the ECOCHARGE delivers outstanding turbocharging efficiency. A variety of product types and sizes are available, ensuring the perfect turbocharger-to-engine fit. Higher scavenging air pressure and efficiency allow improved Miller timing, enabling compliance with IMO Tier III emissions legislation.
Benefits
Lower specific fuel oil consumption (SFOC): increased turbocharging efficiency for reduced SFOC
Lower exhaust emissions (NOx): higher scavenging air pressures of up to 10.5 bar allow improved Miller timing with lower NOx emissions
Compact design: integrated modular design reduces the overall dimensions of the ECOCHARGE unit
Improved dynamic response: smaller high-pressure stage turbocharger with reduced mass inertia for improved dynamic response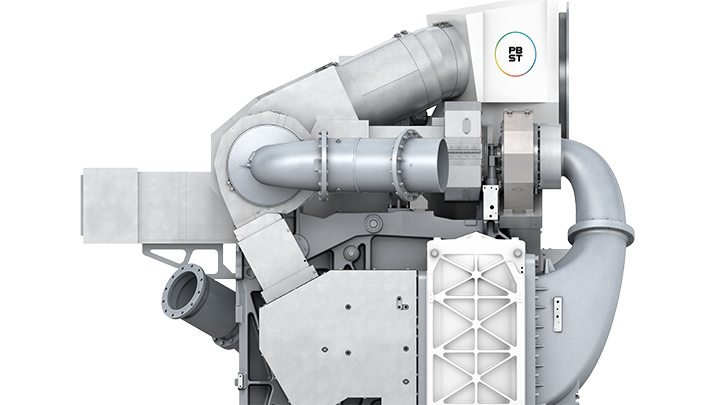 PBST is market leader in two-stage turbocharging. With our ECOCHARGE solution we can count more than 30 million operating hours by now. This equals more than 2,000 applications. Our flexibility is key to fit each OEM's individual needs.